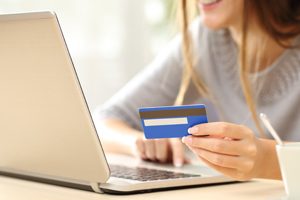 Credit cards are now a necessary accessory for most Dubai residents, as it not only makes shopping easy, but they also serve as a backup when there is a need for immediate purchase. Using them for online transactions can save money by availing cashback, discounts. Every credit card has its own perks and you can opt for one based on your lifestyle and usage.
Here are the top 5 reasons why you need a credit card:
Easy instalments:
Between paying your house EMIs, Insurance, Groceries and fuel, this could drain your salary to a large extent leaving you with enough to barely save for the rainy day. Enter Credit Card. Credit Cards is one perfect alternative to save your money, as many credit card companies/banks provide instalments with lower interest rates. Some banks even offer zero percent interest for certain products. Most people even prefer this to easily manage their monthly expenses.
Banks provide you with flexible interest rates and duration starting from 3 months to even 2 years. This benefits customers to pay their instalments without hurting their pockets.
Maximise on cashback:
With the trending cashback offered by companies or credit card companies at the time of making a purchase, it gives an extra recharge to the card owner who feels he is getting more value for money. Say, for instance, if your credit card offers a cashback of 10% on fuel, then for every 100 AED spent on fuel you would be credited with 10 AED in your coming statement. But these cashback depend on the type of card the customer holds, as every card has its own value.
Travel with air miles and avail travel discounts:
If you are a frequent traveller, mostly by air, then credit cards can help you save money on your travel expenses too. Air miles can be accumulated to avail discounts on your air tickets, redeem them for retail vouchers etc. Surprisingly, you can even fly to your favourite destination for free if you have accumulated that many miles. Other perks might include complimentary airport lounge access, discounts on accommodation or even hire a private car for a very good deal.
Exclusive offers and reward points:
With the right credit card, you can avail terrific offers to not just products but also to services such as spas, and restaurants. Some offers are exclusive to certain cards, like the platinum cards offered in many banks. Banks also have their own apps that provide these exclusive offers to their customers which includes services like booking a movie or a resort maybe.
Apart from offers, banks also offer reward points to customers which can be redeemed later with any other products like phones, watches or even bigger items like refrigerators and air conditioners for free or for a discounted price. Banks actually started this scheme for customers who use credit cards often, thus to make them their regular customers. But one should make sure to use the reward points before it gets expired.
Savings on entertainment:
Since leisure activities have grown by leaps and bounds, even a simple outing like a movie and a lunch will dent the wallet. Using a credit card at movies, entertainment zones and paying for your yummy snacks, you can get discounts for all of them to make your day .Even some credit cards help you get offers like free valet parking in malls and restaurants.
Don't miss out any offer that you get from card companies and never forget, Customer is always King in UAE.