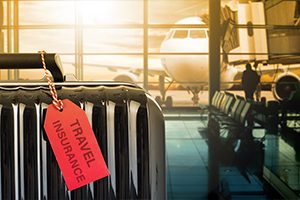 Get to the grips of what to expect when you buy a travel insurance policy.
Travel insurance covers both minor and major mishaps while travelling overseas for business or on holiday. Travelling without a suitable travel insurance cover can be risky and cause you financial distress in an unknown foreign location.
A travel insurance policy can cover you against any financial losses caused due to a wide range of events that can affect your trip. The policy covers you for whether they occur before, during or even after your trip.  Travel insurance should be a priority for all UAE residents, whether you travel regularly, occasionally or for that once-in-a-lifetime (YOLO) trip.
What is travel insurance and what does it cover? Here are the basics you need to know before you buy.
How often do you travel? Single trip and annual trip
Depending on the number of trips you are making in this year you can choose between a single trip and an annual multi-trip travel insurance cover. The rule of thumb is, if you are travelling overseas more than twice a year for more than 15 days, you can save valuable Dirhams by opting for an annual multi-trip cover.
Where are you travelling? Europe or Worldwide
It is mandatory to have a travel insurance cover while travelling to Schengen (Austria, Denmark, Finland, France, Germany, Italy, Switzerland etc). Then, there is a worldwide cover which includes US and another one which excludes US. Make sure to check whether your chosen destination is covered under your insurance policy.
Who are you travelling with? Individual or Family
If you are travelling with your family, you have the option of covering everyone under the same policy. It makes perfect sense to go for a family cover where the single sum assured floats amongst all the members of the family. It is cheaper as well. Just one caution, if you have a senior citizen or a family member with a special medical condition, discuss with your insurance agent before including them.
Benefits of Travel Insurance
Travel insurance policies offer a number of features that help cover you and your belongings while you're on holiday or business.
Emergency Medical Cover
Medical cover is the most crucial part of your travel insurance policy. The amount you need may sound huge but the cost of hospital treatment abroad could be many hundreds of thousands of dirhams. Without travel insurance, it will be scary to pay your own medical bills in a country like the US and this could be very expensive. Also, make sure to inform your insurer of any pre-existing medical conditions that affect you or a family member travelling with you, even if it seems minor or irrelevant.
Most of the insurers in UAE settle hospital bills directly all over the world. Also 24X7 call centre facility to help with emergency situations comes handy when you are stuck in an unknown location.
Trip Delay, Cancellation or Curtailment Cover
If you are unable to travel due to an illness or bereavement, you can claim for the ticket or hotel expenses paid. You can claim reimbursement for the unused part of the travel and accommodation services you booked, based on a pro-rata proportion of these services.
It's always important to check the terms and conditions of your policy to see exactly what is covered and what is excluded.
Baggage and Personal Belongings Loss or Delay Cover
Travel insurance normally covers you up to a certain limit for lost or stolen baggage and personal belongings (Passport, Traveller's Cheques, Cash, Mobile phone etc) and even delayed baggage arrival beyond a certain period. As well as an overall limit for lost and stolen belongings, most travel insurance policies will limit what you can claim for single items and all valuable items. Be sure to bear this in mind when packing for your holiday.
Other features
Other policy features covered in most travel insurance policies include door- to- door personal accident, legal expenses in case of personal liability, cover for disasters or unexpected events.
Whether you're skiing in the Alps, lounging in the Maldives or trekking across the Amazon, we advise you take travel insurance cover for all your overseas trips. The cost of travel insurance in UAE starts from AED20 per day. That's too small a cost for a worry-free holiday. Bon Voyage.